Jordan River
Go to List of places in the Bible
Jordan is the name of a river and a country. The river has been called the Jordan, or the Jordan River, or the River Jordan since ancient times. Today there is a country called Jordan, which occupies land east of the Jordan River. The country of Jordan did not exist during ancient times.
Without a doubt, the Jordan River is the most famous river in the world. There are many references to it in the Bible, from Genesis through the Gospel of John.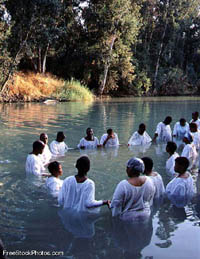 There, Jesus was baptized by John the Baptist. At different times, the waters of the river were parted for Joshua, Elijah and Elisha. Naaman, the army officer from Syria, was cured of leprosy when he dipped into the river seven times.
It is the largest river in Israel, and is formed by three streams in the foothills of Mount Hermon. It descends into the Sea of Galilee. From there, it travels 65 miles to the Dead Sea, but because of its meandering path, it travels 104 miles to get there.
The Jordan Valley is thick with vegetation and was at one time rich with wildlife. In Biblical times, lions roamed the area. The River provides a natural barrier for territories on either side of its banks. Today in Yardenit, just south of the Sea of Galilee, pilgrims gather from around the world to immerse themselves, and to be baptized in the River Jordan.
Next Bible place: Judah
Go to: Map of places in the Bible
Go to: List of places in the Bible